Saturday's JV tournament in Chanute game info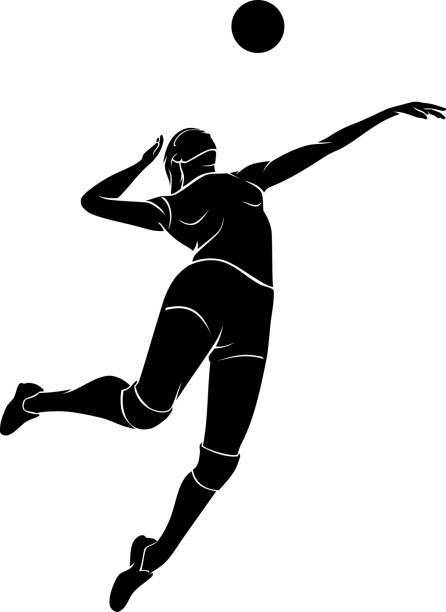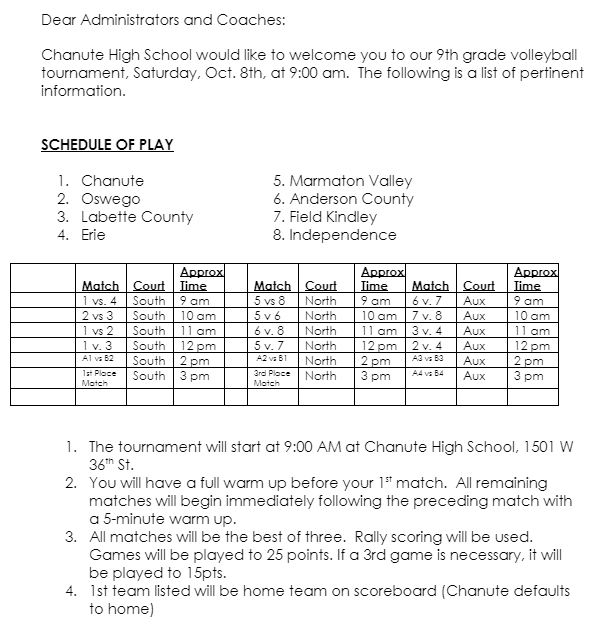 Saturday's Varsity Volleyball tournament in Uniontown info is attached below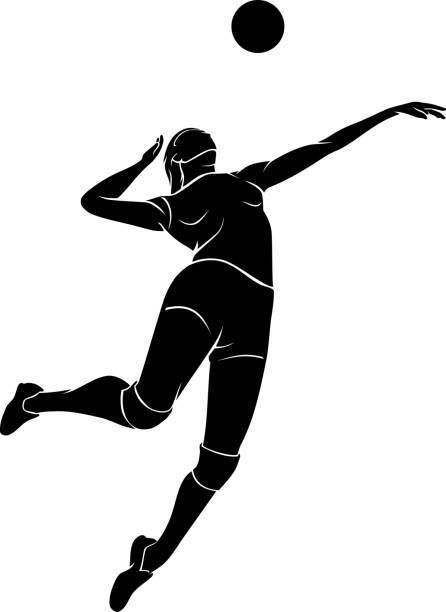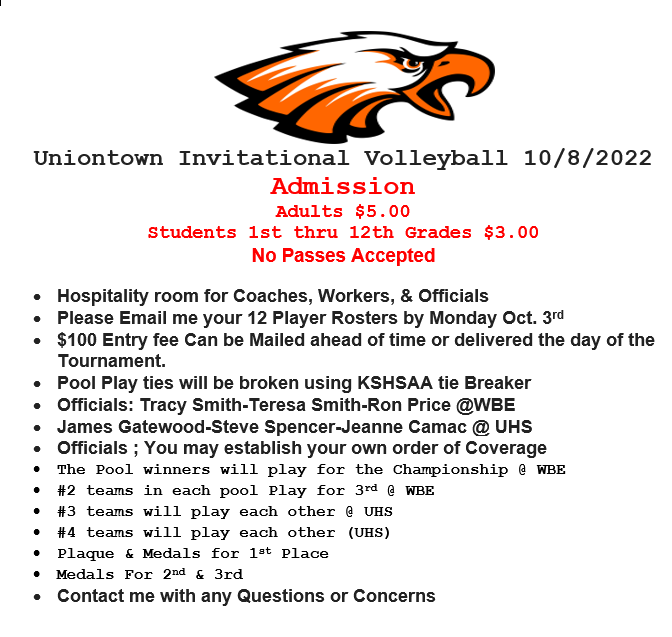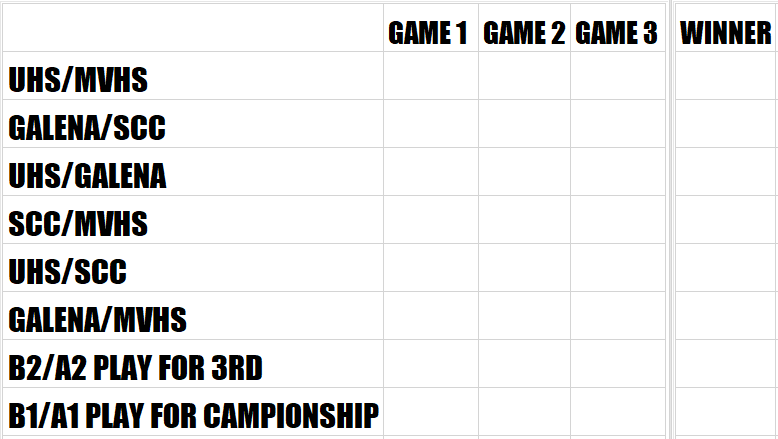 Game info for tonight's Varsity High School Volleyball games at Crest 5:00 pm Crest vs St Paul St Paul vs MV Crest vs MV Remember it is Varsity only tonight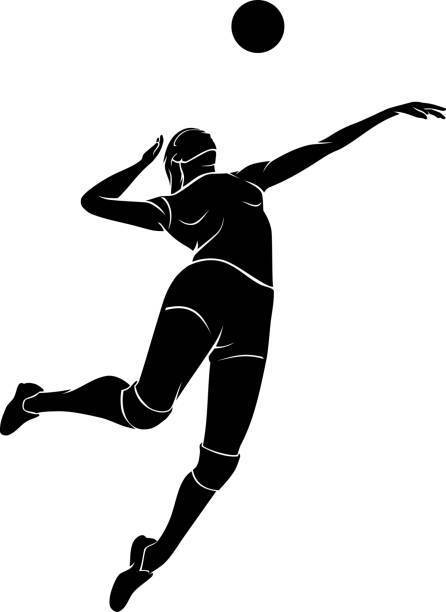 The Three Rivers League had their first ever Sportsmanship Summit last month. This was a great opportunity to all that were involved. There were multiple excellent guest speakers: CHET KUPLAN--Sports in Kansas JIM MASON (LEAGUE PRESIDENT) OFFICIALS PRESPECTIVE ON SPORTSMANSHIP (RON PRICE ) COACHES PRESPECTIVE (MATT FOWLER - Oswego) ADMINISTRATORS PRESPECTIVE (Don Epps of Chanute) STUDENT PRESPECTIVE (SOPHIA ALBERTINI - St. Paul) Each school within our Three Rivers League had 4 representative athletes. Our four were Freshman Brevyn Campbell, Sophomore Brayden Lawson, Junior Payton Scharff, and Senior Tayven Sutton. Hopefully we can bring what we learned back to our home districts and ignite change in the entire league.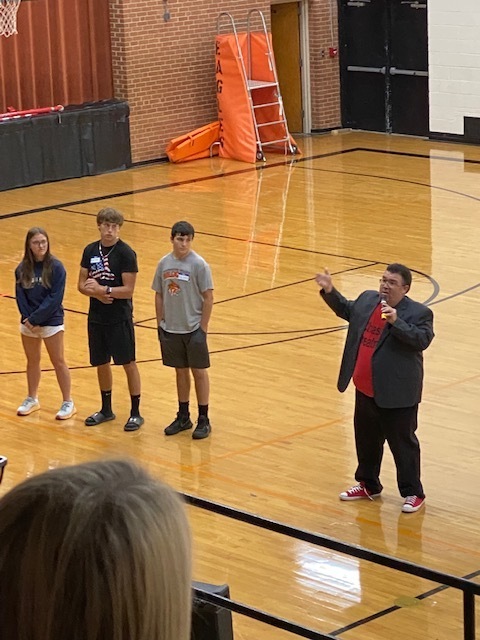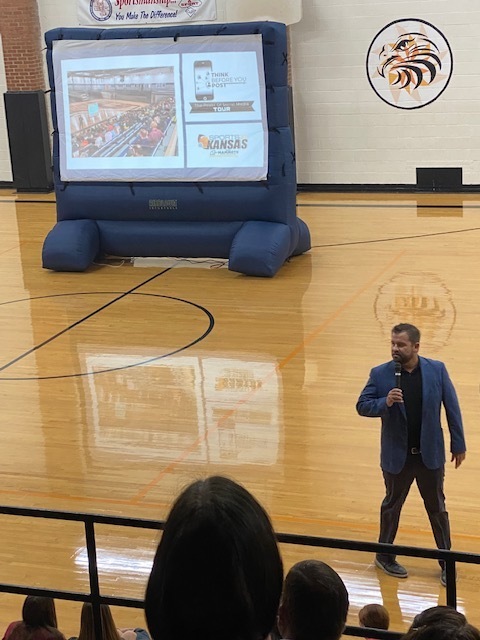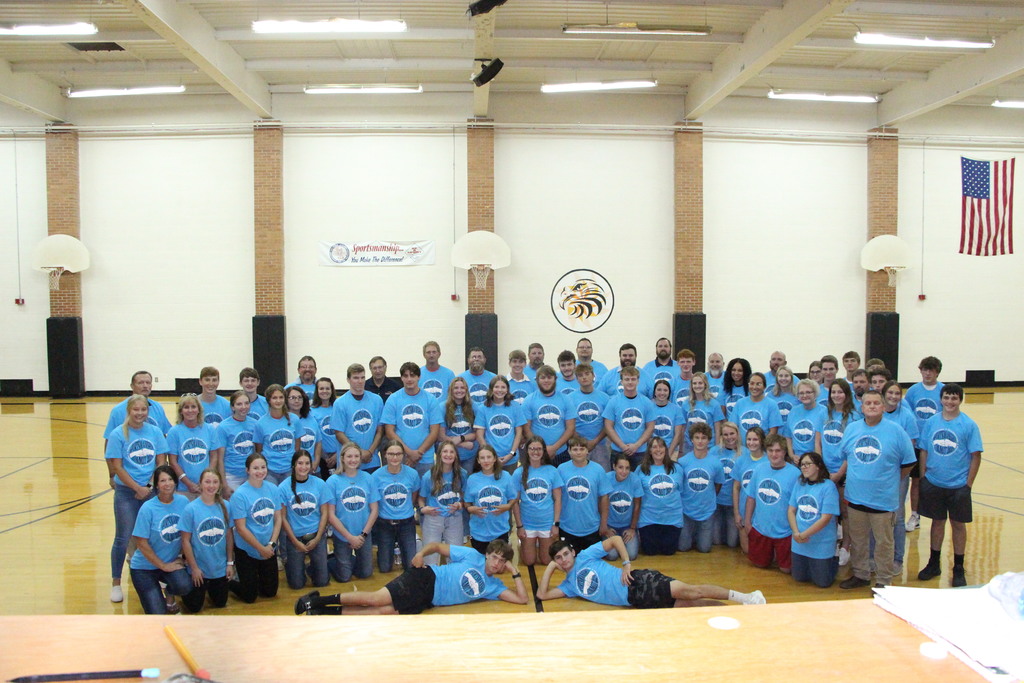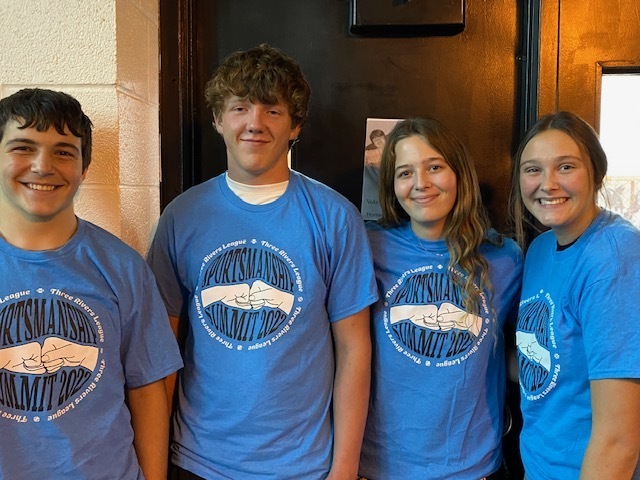 Successful night for JH Volleyball where the "B" team beat Pleasanton 25-14 and 25-20, then beat Southeast in three 25-14, 17-25, 15-7. "A" team beat Pleasanton 25-11, 25-20, then lost a hard fought battle with Southeast 21-25, 22-25. Good job girls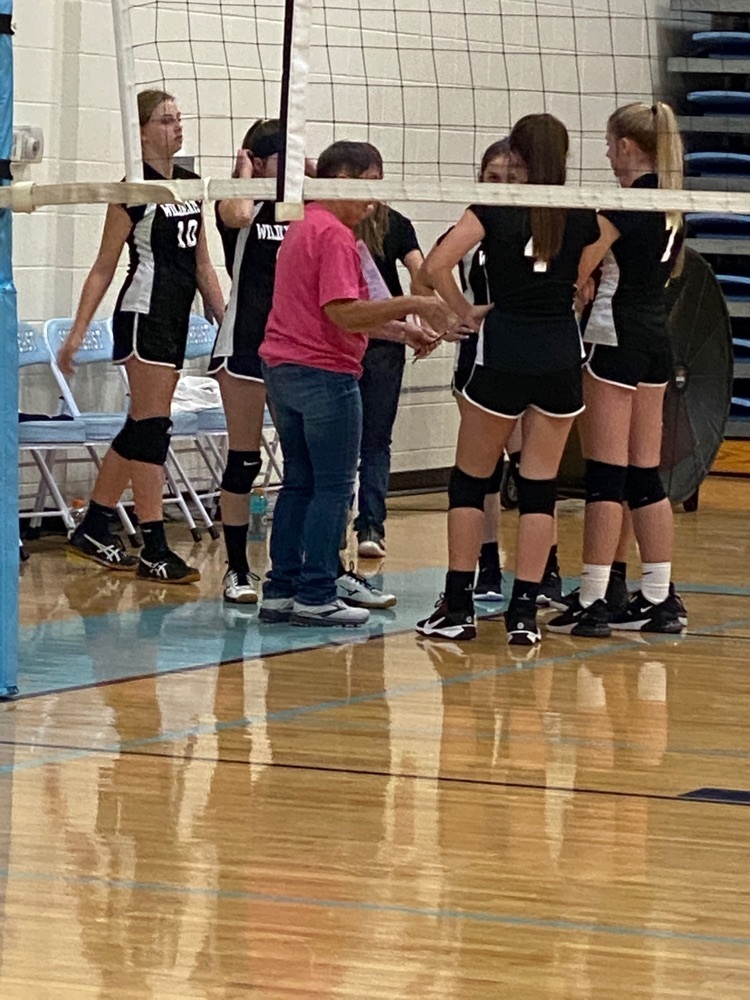 Updates! The JH Volleyball tournament at St Paul on October 10th has been canceled The JV football game at Lebo on October 17th has also been canceled

Junior High 'A' Volleyball Tournament Saturday, October 1, 2022 at Uniontown Play will begin at 8:30 a.m Game info below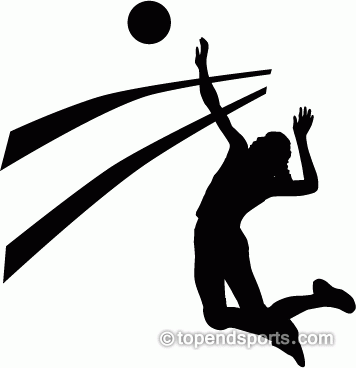 7th and 8th grade Parents! Attached is a parent information letter sent from E-Mints.  E-Mints is a program that supplied the school with Chromebooks, Smartboards, 3D printers and much more.  In the letter there is a link that will allow you to opt your child out of a survey that they will be asked to take next week.  This survey will give data to help fund the program for additional years or any future projects that might benefit the school.  Please let me know if you have any questions.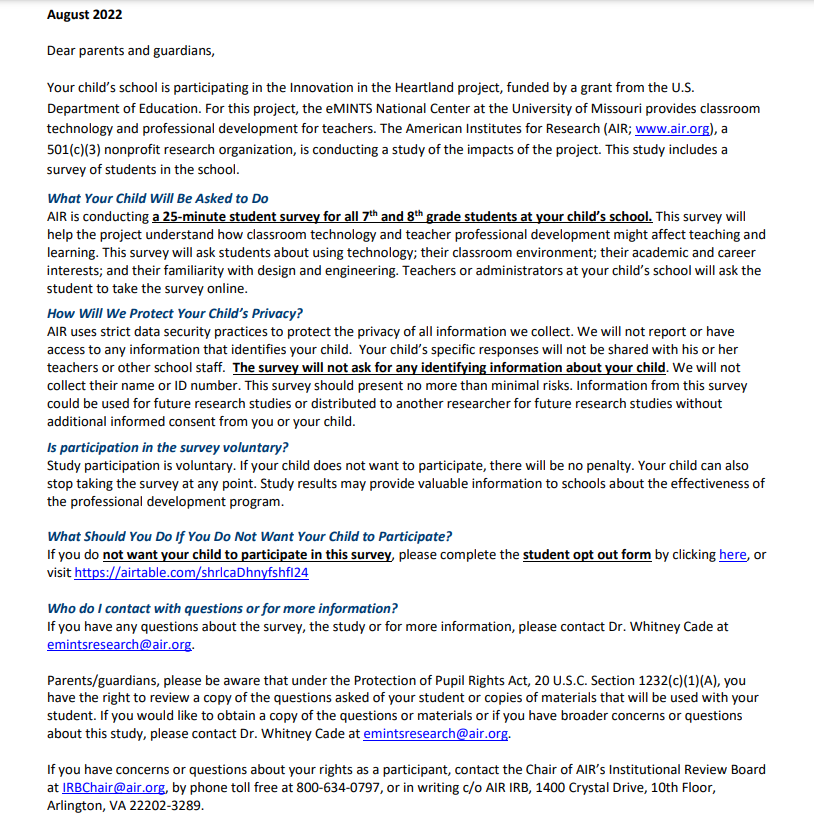 Don't forget that tonight (9/28/2022) is Day 1 of Fall Parent Teacher Conferences from 4:00 - 8:00 pm. JH and HS will be in the commons, no appointment needed. Elementary will be by appointment in the teachers classrooms. Tomorrow JH and HS will be in their classrooms and we will have several teachers gone. Hope to see you all there.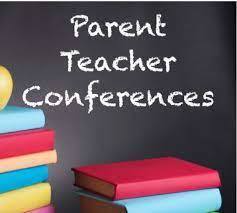 Game info for HS volleyball today 9/27/2022. We play the first two games starting at 5:00.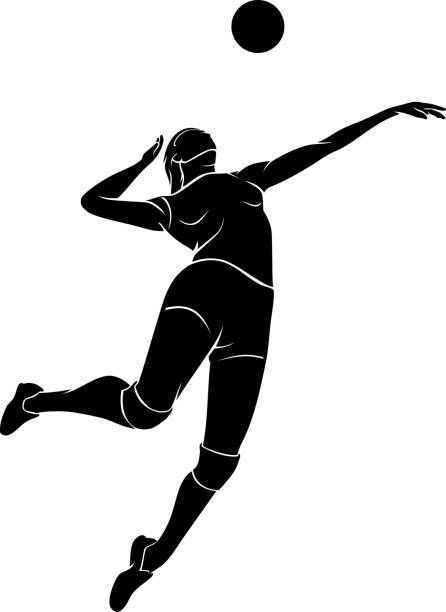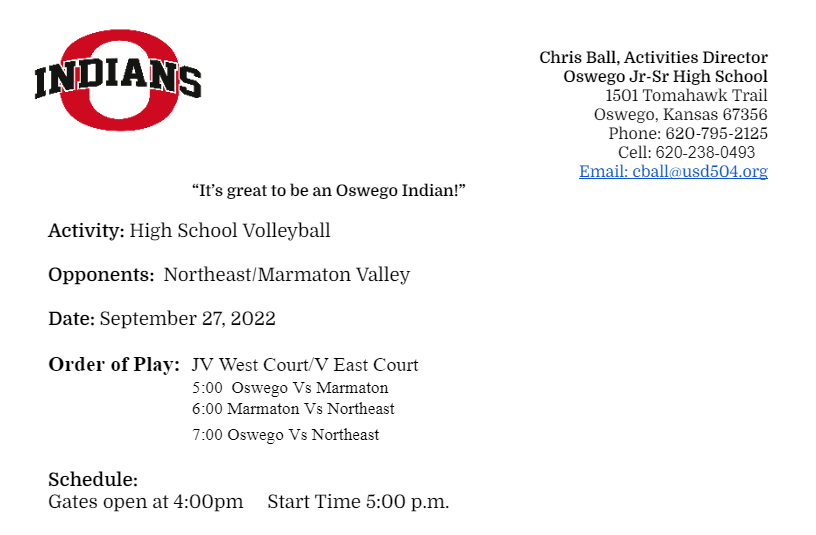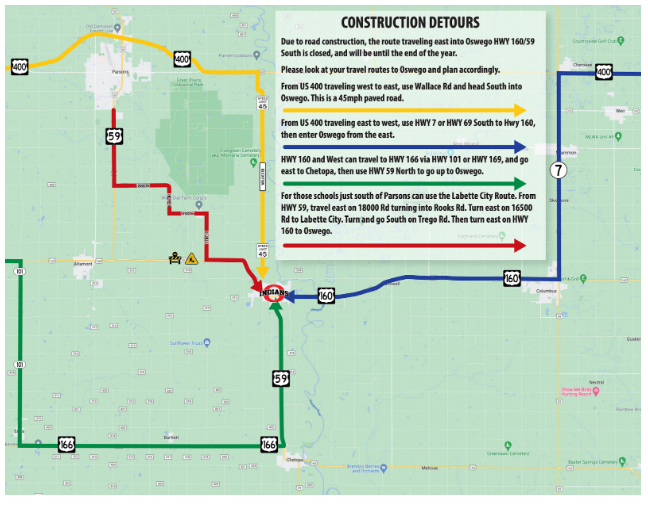 Mr. Marshall's 7th grade science class is learning about tectonic plates! In the pictures below, they are pushing graham cracker pieces together to resemble convergent plate boundaries like the earth would make mountains.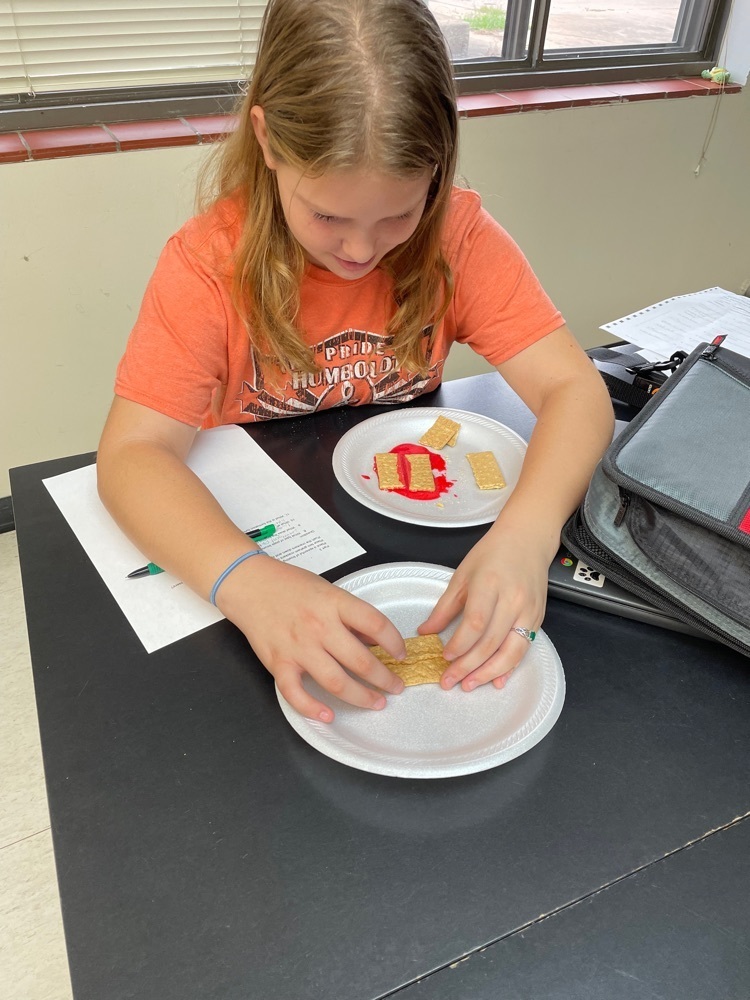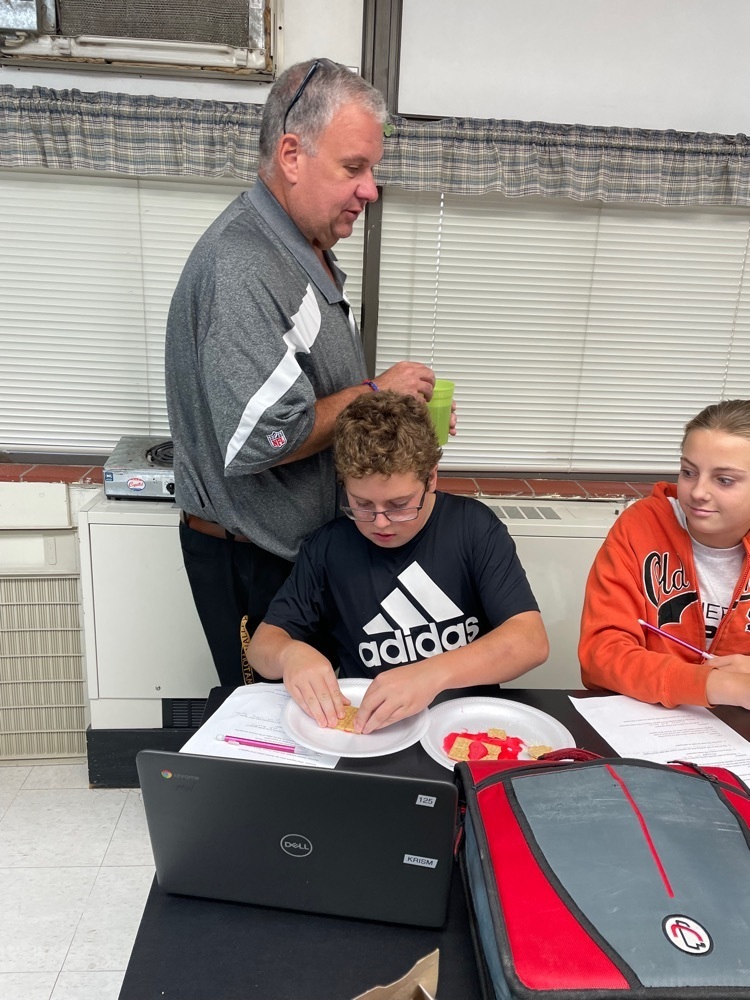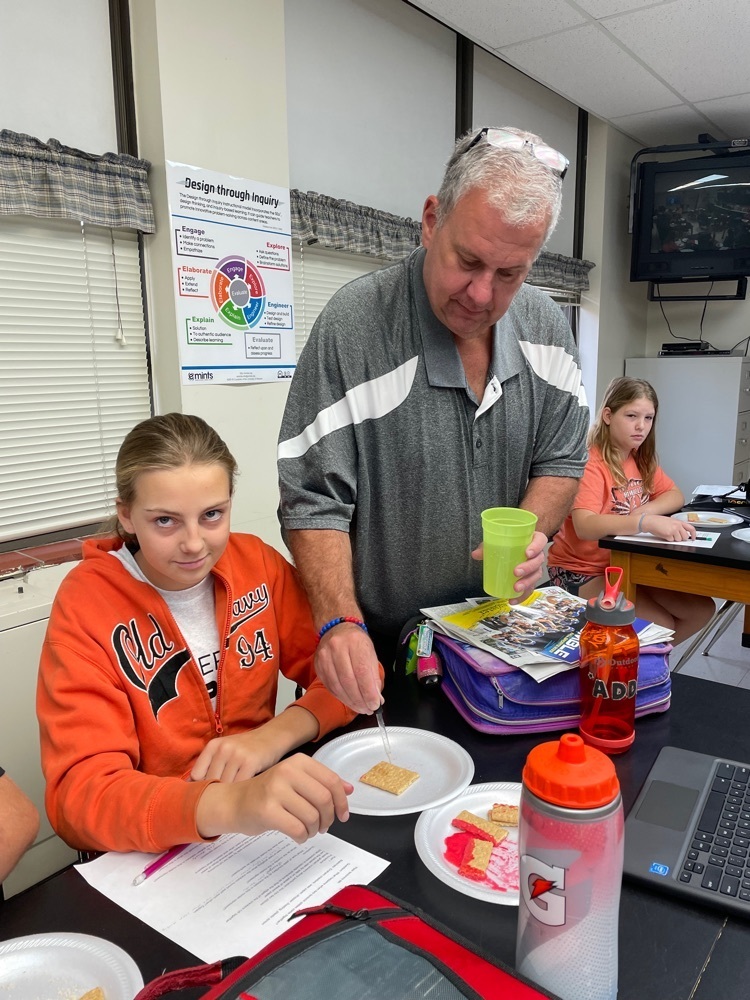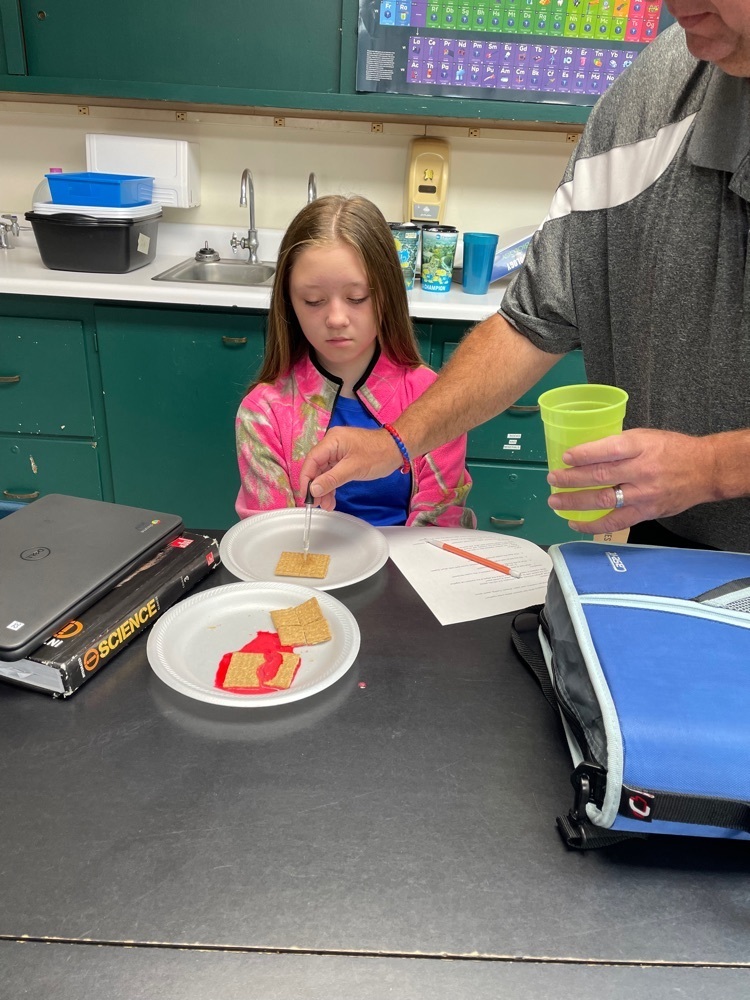 Reminder: Elementary Parent Teacher Conferences will be Wednesday and Thursday September 28 and 29 from 4:00-8:00. Please check with your child's teacher if you have not scheduled a meeting time. Also, a Title I informational meeting will be held for elementary parents in the elementary library each night at 5:30.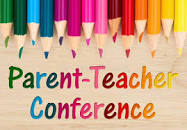 Tonight's Junior High Volleyball against JHL and NE will begin at 5:00 pm. We will be playing in both gyms. "A" team in the main gym. We will play the 1st and 3rd games. Hope to see you all tonight.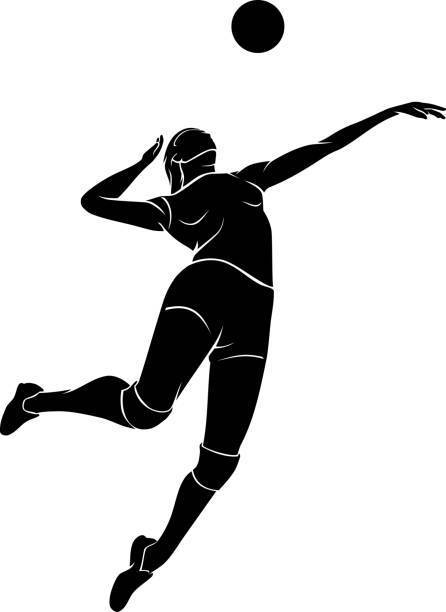 Parent teacher conferences are this week!!!! Dates: September 28th and 29th Time: 4:00 - 8:00 pm At the middle and high school level we will be offering conferences face to face with no scheduling needed. On Wednesday the 28th teachers will be in the commons area and on Thursday teachers will be in their classrooms due to the Junior High having home games for volleyball and football as well as cross country on the road. ***This will make some of our teachers unavailable on Thursday as they will be coaching or working the event.*** Please call the high school office if you have any questions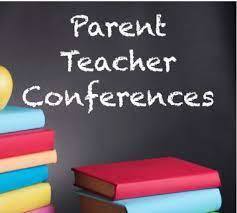 As one event ends, it's time to announce the next! Fall Alumni Night! On senior night, Oct. 14, any and all alums of MVHS are invited to the game! More details to follow!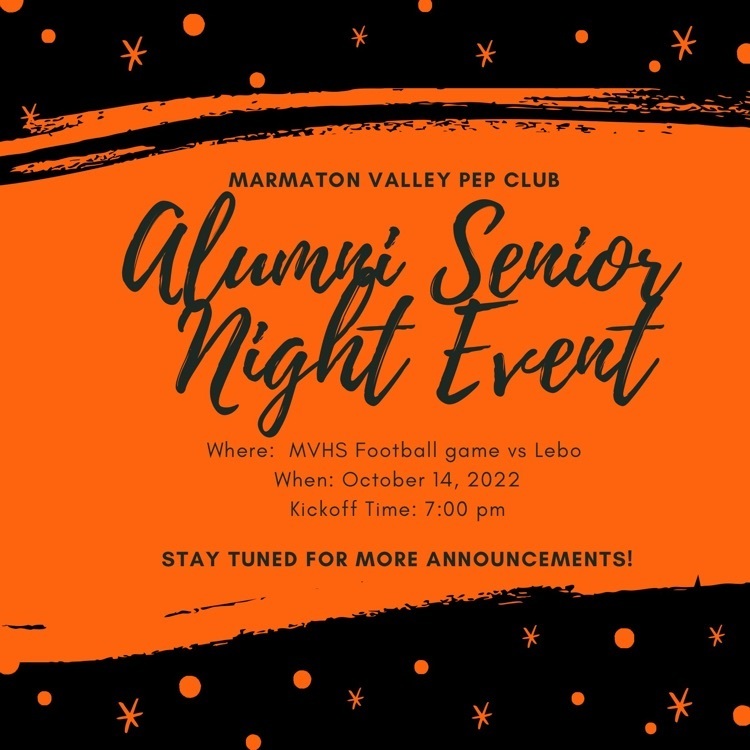 The sidewalks have been finished! Make sure to check them out when you come to the game!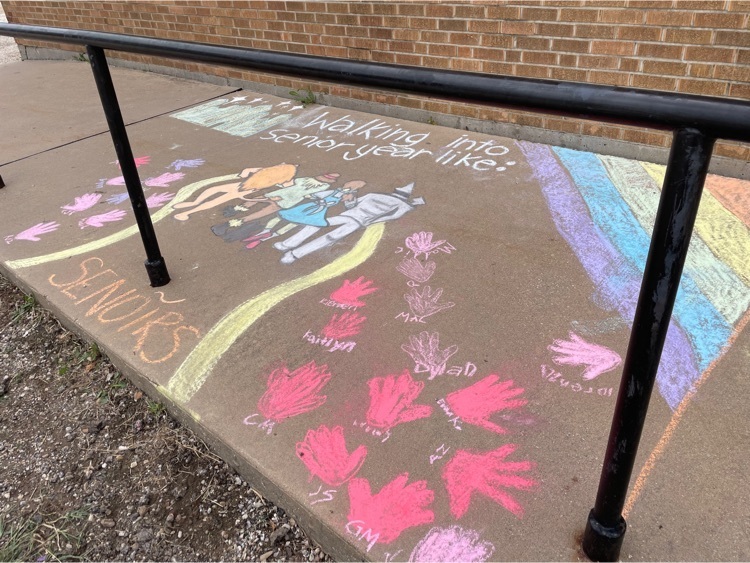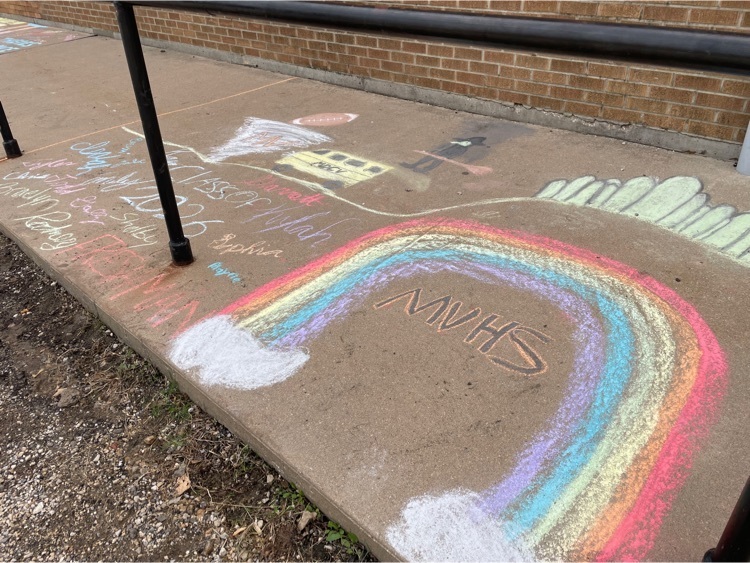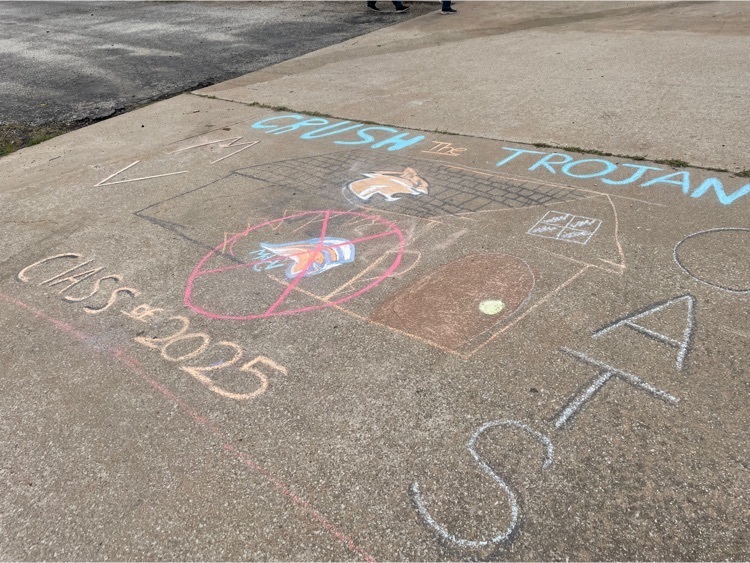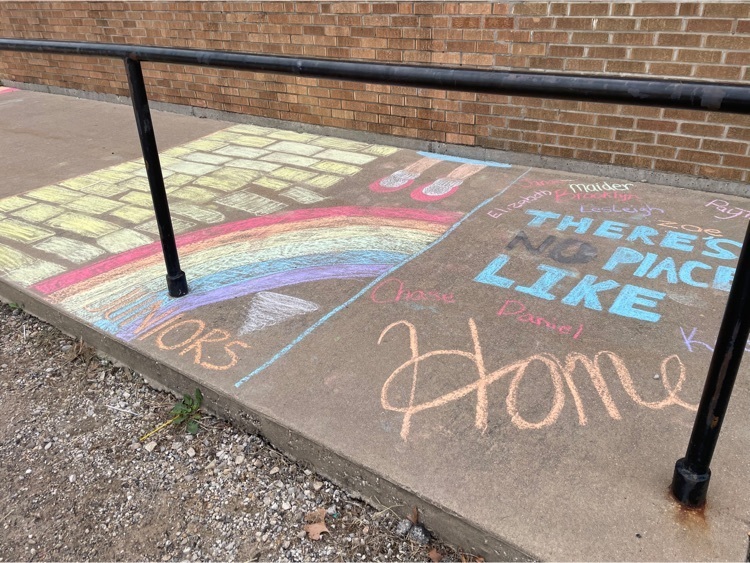 Tonight is the night! It's Homecoming! The festivities begin this afternoon with the high school partaking in activities like sidewalk decorating, class volleyball tournament, and pep rally. Then starting at 5pm, the Cheerleaders will be painting faces until 5:30 which is when the FFA Pulled Pork dinner begins. The dinner is a free will donation meal that consists of pulled pork sandwiches, potato salad/chip, baked beans, dessert, and a drink. Crowning will be at 6pm on the field. Kickoff is at 7pm with the Kiddie Clinic and band performing at halftime! Since the dance is tomorrow, there will be a 5th Quarter after game hosted at the Moran Methodist Church. The dance tomorrow evening is only for high school students from 8-11pm.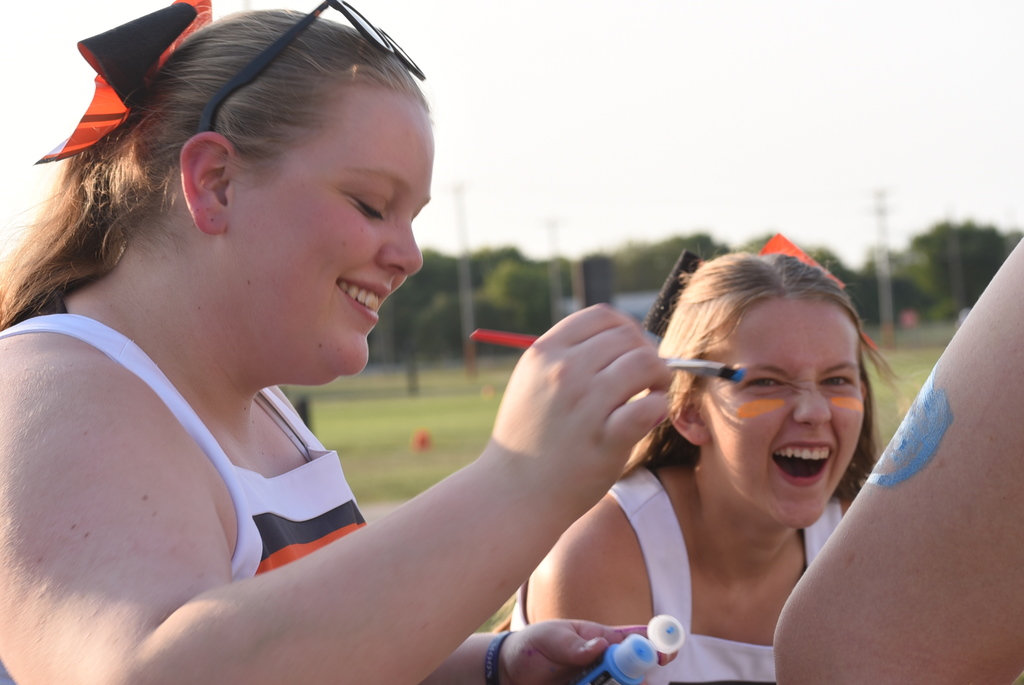 We are excited to reveal our students earning the "Cats with Cool Character" award for the month of September. The "Cats with Cool Character" award is given each month to those students who have demonstrated outstanding acts of good character in the classroom, lunchroom, playground and at ballgames. Congratulate these students when you see them!!!! WILDCAT PRIDE!!!!!